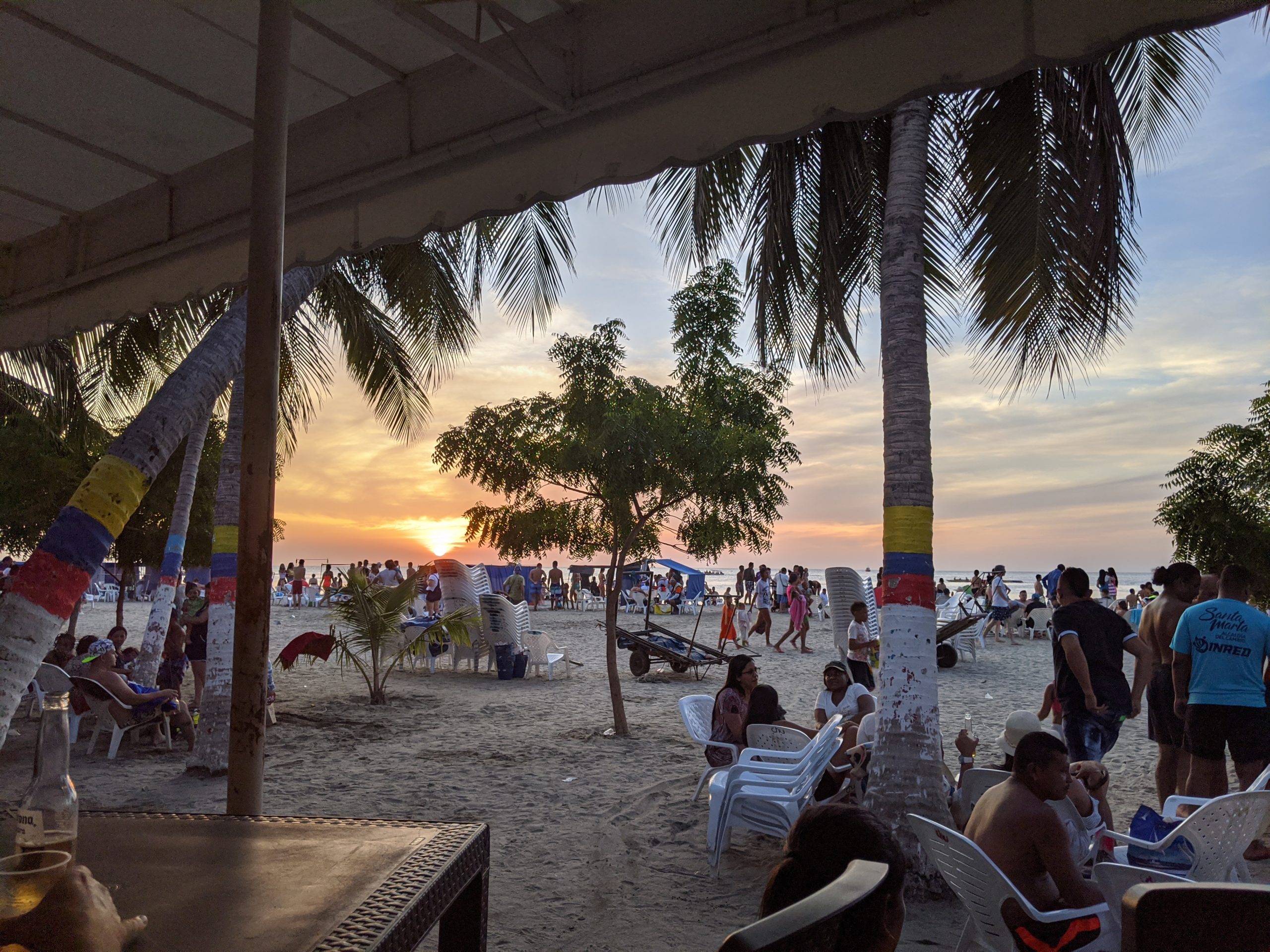 For the last few days I've been spending time in El Rodadero, Colombia before setting off to Palomino for Hackerbeach. Another participant arrived today, and joined me in relaxing before the primary Hackerbeach work in Palomino. It's peak season here in El Rodadero, which means all the restaurants, the malecón, and the beach are filled to the brim with people, mostly traveling Colombians who come here for what is justifiably one of the most gorgeous beaches in the country.
They come with their family and they bring coolers, lawn chairs, speakers, and shade. Trying to navigate from the beach to the water is nearly impossible due to the crowds. Despite the business, we found respite at some small plastic tables arranged in front of a corner store, called a tienda. From there we were able to people watch without too much harassment.
On the beach and everywhere else in town, all the locals are working overtime, hoping to make enough money during these few weeks to live for the rest of the year. Some folks earn tips trying to help others park in the small and nearly full streets.
New Years Eve was a special time here as well. There were plenty of traditions to be observed, of course accompanied by the obligatory long and aggressive reveling involving different varities of music, dancing, drink, and food.
This year I was lucky enough to be invited along with a friend to a local's house, where we rang in a new year with their family. We ate some lovingly prepared pasteles, which is a delicious packet of rice mixed with olives, rehydrated raisins, and meat covered in a cabbage leaf, then folded inside a a bijao leaf (similar to a banana leaf), then steamed. It reminded me of a tamale, but with a more intense flavor. This was just the start of my delicious food discoveries over the few days.
Then came the dancing. Although it was just a small family gathering, we had a living room. That meant that we had a dance floor! Over the course of the night I learned that there were far more dance styles than simply samba or tango. Other interesting styles that I had not heard of before came into play. Whenever dance-able music came on (often), folks felt compelled to start dancing. Cumbia and Champeta are local styles to the Caribbean coast.
When the clock stuck midnight we dug into another traditional snack: grapes. The method explained to me is that when the clock struck 12, I needed to eat 12 grapes, each time making a wish. It made clear why I had seen carts full of grapes rolling through town earlier in the day.
Fireworks could be seen all throughout the town. Hotels and night clubs, having elaborate displays of aerial fireworks reporting throughout the night, but especially around midnight, the din distorting the loud music that could be heard all over town.
The following day was mostly spent recovering, hunting out the good coffee (Juan Valdez is a Colombian coffee chain, but has surprisingly good filter coffee), and trying out new food. The star of the new edible discoveries was definitely an arepa hueva. An arepa is a roundish and flat piece of dough made from maize and fried. Afterwards, it is cut open and a raw egg added to the middle. It is again fried to cook the egg inside, then served hot. Despite being fairly greasy it has a delicious crunch to the outside and tender inside. For condiments was typically a mildly spicy salsa to spoon inside it, as well as something that looked cream-based that I did not investigate. They're sold by street stalls all over town and cost around 2500 COP ($0.75 USD). A photo should follow in a future post.
My last indulgence (with apologies for lack of photos) was learning about salchipapas, which is perhaps the local king of late-night drunk food. An order of salchipapas begins with laying down a base layer of sausage (typically hot dog rounds) in a the typical paper hot dog boat. Afterwards ours was covered in a layer of french fries and covered in fry sauce, and after that it was covered in some shredded lettuce dressed in a cream dressing and topped with a thick layer of shredded cheese. It can be sized up by how many people should be eating it. All this treat for only 8000 COP ($2.50 USD).
Tomorrow another Hackerbeach participant arrives and we'll spend our final day in El Rodadero. Over the weekend make our way to Santa Marta, where we'll walk around the Centro Historico a bit and find a bus that will take us to Palomino, where I'm hoping our pace will slow down and we can focus on sharing knowledge in the form of some workshops and talks, and relax in earnest in a smaller, quieter town.